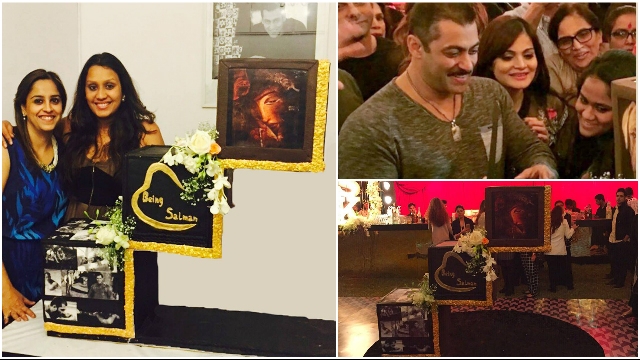 When you turn 50, you celebrate in style. That was the main agenda that the Khan-daan had while they planned out the entire evening to celebrate Salman Khan's 50th birthday at their Panvel farmhouse two nights back. Amidst the grandeur, the designs and the sea of well-wishers, there's one thing that stood out completely. The birthday cake.
Weighing a huge 50 kilos, the three tier floating cake was designed by Pooja and Shikha from Juhu's Mish Mash bakery. How did the cake fall in place? The basic idea was of Arpita Khan's who wanted something different for Bhai's birthday. The cake mavericks started their work and came up with this gravity defying cube cake, inspired by GT cakes, a bakery based in US.
A Facebook post on the company's page reads: "So i want to share the story behind this madness and this huge cake it all started with a call from Pooja Dhingra on my first holiday with my husband and coordinating this cake with my co partner Shweta Somaiya in this madness was a task. So nothing goes easy when its such a huge cake. All her efforts were really valuable. We had a lot of madness while doing this.
2 days, a broken internal structure just before the day of the cake, changing the structure, to the cake turning out to be smaller than the structure just 4 hours before the delivery. Shweta Somaiya working all night on the flowers. And to top the madness we completed the cake stopping the car on the highway with people staring inside the car. And it did not stop here. The road to the venue was the highlight – bumpy as hell with my rockstar dinesh holding the cake. All is well that ends well. When the person who ordered the cake, the person who cut the cake and the people who made it are content. This cake would not would have been possible without a few so we would like to thank them Priyank Murarka Priyanka Sunita Murarka Renu Murarka Sourabh Mutha. Thank u Shweta Somaiya this is just the beginning of our journey together for bigger things."
Now, coming to the bigger picture. how much did the cake cost? A whopping Rs 1 lakh! Yes, that's how much the 50 kilo cake cost the entire Khan family. But when it's Bhaijaan, it has to be unique and different. And this one certainly stood out! As they say, money doesn't matter when the quality is supreme.